2008 Braniff Reunion Pictures

© 2008 Brooke D. Watts

Braniff Gate sign from Terminal 2W at D/FW International



Joe Mitchell, Bill Ripp, Elizabeth Sheppard and Bill Joynes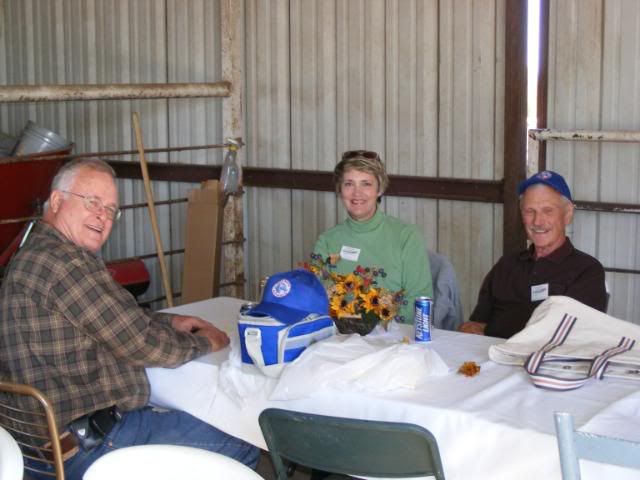 Roland Upton (on right)



The "Braniff" Ranch North of Justin, Texas



Braniff MSP Employee Bill Ewing



Butch Hunt on his Vintage Farm Tractor with Suzannne Garner and her daughter Regina.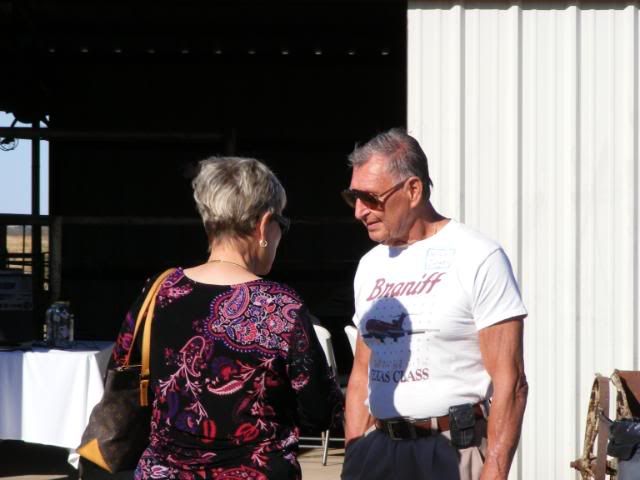 Mary Horn and Bill Joynes



Patsy Hunt (standing behind tractor) and Butch Hunt with Regina Garner



Carolyn Casey with Joe Mitchell



Brenda Granchay



Suzanne Garner and Jerry Garner



Mary Horn and Butch hunt



Dow Thompson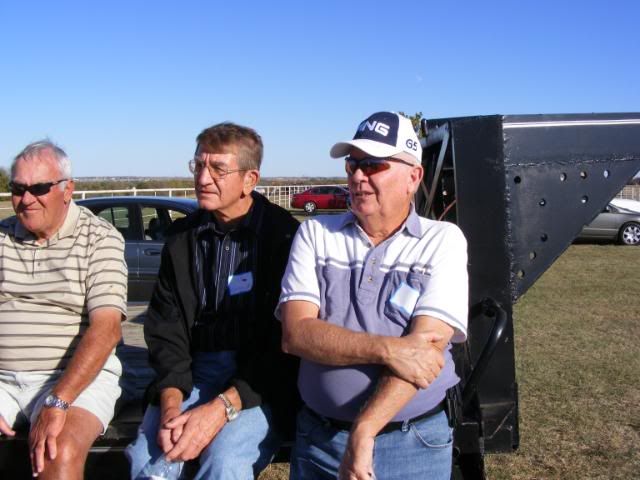 Wendel Glenn, Joe Granchay and John Lucas



Brooke Watts, Joe Mitchell and Bill Ripp




If you wish better copies, or bigger copies , please e-mail us.


Letter from Butch Hunt, Retirement Club President:

On Nov 8, 2008, a large group of past employees assembled again at the ranch of Mr Willie Ihnfeldt and his wife Peggy. The weather could not have been better. The temperature was great and the sun was sunny and warm. What a beautiful day it turned out to be for such a fun event.

This year we had visitors from Florida and Newark, N. J. only to name a few of the out of towners. These employees along with the others from all around the metroplex gave us quite a mix of localities from which people came. But thats the way it is with airline people.....they are scattered everywhere, even with the airlines today.

Elizabeth Shepherd was there with her large display of Braniff tee shirts, etc. She had brought with her many many different shirts with all kinds of past Braniff airplanes on the front. Her shirts were beautiful and very popular. She also donated one of them for the drawing. The winner was given their choice of any shirt with any plane. She also generously donated several other items she had including a painting of a Lockheed Vega landing in STL in 1939. Thank You Elizabeth for your generosity and bringing such a nice and colorful display of shirts for us.

At 1 PM the drawings started with 24 items to be given away. Many items were donated by Past President of Braniff Airlines Retirement Club, Mr Bill Joynes. To mention only a few of the things we gave away was coffee cups and saucer sets, decks of cards unopened, pictures of the " Day After ". a Jance book about the calder airplane and also several books of poetry he had written. Thanks Bill, you did a lot and made a lot of people happy.

In addition to these items were at random several gift certificates from Krogers and Starbucks, pecan pie, fruit baskets,large scented table candle, large jar of Hersheys chocolate kisses.

After the drawings most everyone wandered around and visited or just sat in their lawn chairs and rehashed old times with those around them.

Later in the afternoon Butch Hunt fired up his little tractor and trailer and gave some rides. One of those was Suzanne Garner and her daughter Regina. Regeina was really excited when Butch asked her if she would like to drive it down the driveway. With the permission of her mother of course. Needless to say, 7 year old Regina will remember this day for a long long time. Her parents Mr Jerry Garner and his lovely wife Suzanne are the proud parents of their beautiful daughter Regina. What a great young driver she turned out to be.

Mr Brooke Watts was there also and took lots of great pictures. Its always nice to have him around with his camera and his friendly ways. We must all thank him for the great job he did taking the pictures and keeping up the website for us. His articles on Branffpages.com is what helps keep us going.

In closing, the picnic committee would like to thank everyone who was there with us. If anyone has any suggestions for us to help make the picnic more interesting please feel free to contact anyone on the picnic committee. Any of us can be contacted thru the Retirement Club : Brenda Granchay, Butch Hunt, Billie Bator or Bill Joynes. This is your picnic and we want everyone to attend and have a good time. Enjoy yourselves and be happy. See you next year. - Butch Hunt

" Strive To Keep Braniff Alive "