Scroll down to see entire picture and description

"End of the Plain Plane" 1965



DC-6 "Testbed"
"End Of The Plaine Plane" Chronology

1965-1966

Tuesday July 6, 1965 The Right side of a DC-6 which was withdrawn from service, is painted a dark "metal flake" purple on the fuselage, wings, tail and horizontal stabilizer. A small white "BI" was painted on the tail and small white "Braniff International" titles are applied near the R1 door. (This was Girard's original design) According to the (then) US Weather Bureau Data, High was 98 degrees and low was 77. A HOT summer day. Plane parked behind South hangar bay along blast fence seperating Braniff base and SW Airmotive. Plane clearly visable and accessible to any and all photographers from South Base parking Lot. No obstructions between parking lot and plane.

Wednesday July 7, 1965 The Left (port) side of the DC-6 is painted Orange (NOT RED as seen in many pictures) with white wings, tail and horizontal stabilizer. This design (based on on the Early 1930's Lockheed Vega Scheme) was actually approved by Dick Flume, Bob Sawyer and C.O.O. R.V. Carelton (Not Girard's choice) Picture of approved schemes are above. High Temperature was 100 degrees and a morning low of 81 degrees. Another VERY HOT day. Titles above were finally changed to all black.



All day Meeting at Executive Inn at Mockingbird Ln (Just East of Cedar Springs Rd) Tuesday Aug 3, 1965. At this meeting R.V. Carelton was insistent, and won the argument that a variation of the Vega scheme (above) had to be used, and not Girard's original designs. It was also agreed that the bottom of the fuselage, wing and horizontals would NOT be painted white. Also note Jack Tinker represents "New Image" remarks, NOT Mary Wells. All indications were that Mary Wells was not present at the meeting.

Monday September 27, 1965 Braniff repaints N7076 Boeing 720-027 with Lavender Fuselage, white wings, tail, engines and horizontal stabilizer. Painted at Love Field Base.

Tuesday September 28,1965 Closed Photo shoot for still and video ads conducted. Employees and professional photographers, still and air to air, on set at Dallas Base. Temperature on the day of the photo shoot was 59 in the morning, and a high of only 84. (US Weather Bureau Data) It was "clear an mild" This was FALL weather of course.

Wednesday Sept 29, 1965 N7076 is placed into service on the MSP-MKC-DAL-SAT-MEX route. The Mexican Goverment formally objects to the Lavender plane. Soon, Mexico government would object to N7078 which was wapainted in dark purplish blue. And demanded both airplanes be removed from Mexican routes.

Friday Oct 1, 1965 Braniff completes the repainting of a BAC-111, N1544 with Solid Color Orange

Saturday Oct 2, 1965 Braniff closes the base again for a photo shoot with N1544. Again, only employees hired to act, and professional still and air to air photographers were allowed. Weather was high of 71 and low of 55, a Cool fall Texas day.

October 1965 Four additional 1-11s are painted Beige, Turquoise, Lemon Yellow and Dark Blue

Saturday Nov 6, 1965 Braniff unveils N7076 and BAC-111 N1544 to the press

November 7, 1965 Braniff has an employee "open house" (for employees and family) unveiling the new scheme.

Nov thru Dec 1965 Remainder of Boeing 707-227s, 720s and BAC-111's painted, plus a partial scheme on Leased 720's from Aer Lingus 7082 and 7083. (R.V. had friends at Aer Lingus, and had ordered the lease agreements prior to the End of The Plain Plane.) Last plane painted was Turquoise N7074

Thursday and Friday Jan 20,21 1966 Aerial Photo shoots from a helicopter after snow storm at Love Field of planes on the ground or in the air. Photos taken of the 707s, 720s and Bac 1-11 aircraft. The Helicopter is hired by Glenn Geddis. (Looks like Airways Magazine got the dates wrong based on original error in George Cearley's Color book)

ALL ABOVE ORIGINAL VINTAGE TYPED DATA PROVIDED BY WANDA BROWN AND PAT WRIGHT

Feb 1966 N7076, the Lavender Plane, and N7078, the dark purple plane were repainted Blue as not to offend the Mexican Government.

NOTE: Braniff NEVER flew a DC-6 in the "solid-color" scheme. I have seen decals on eBay for a solid-color 6, but remember, the paint only was applied for a few days.

In addition to this aircraft, aluminum sheets were painted in various colors picked by Alexander Girard and placed on the roof of Braniff's Lemon Ave. Base. (During a cocktail party, Girard a bit drunk, fell into the paint samples. So the designer was wearing his own colors! Several Girard colors were not picked beacuse of oxidation and durability problems.

DC-6 Braniff Photos via George W. Cearley, Jr and Glenn Geddis.



Page from the 1965 "Braniff Annual Report" showing the new Girard designs.



Girard Inspired Colors on 707s, and colored planes at Love Field, Texas.



Description of fabrics and colors applied to Braniff aircraft in 1965.
This scan was taken from the back of a Braniff postcard Circa 1965.



The infamous "Lavender" Boeing 720 which had to be repainted whithin a month because The people of Mexico thought "it bad luck."

The engineers at Braniff gave N7076 the nickname "The Lavender Hill Monster." (This is the same plane that appeared in "The End of the Plain Plane" ads and brochures...but the color was re-touched to a medium blue.)

Here it is UNRETOUCHED: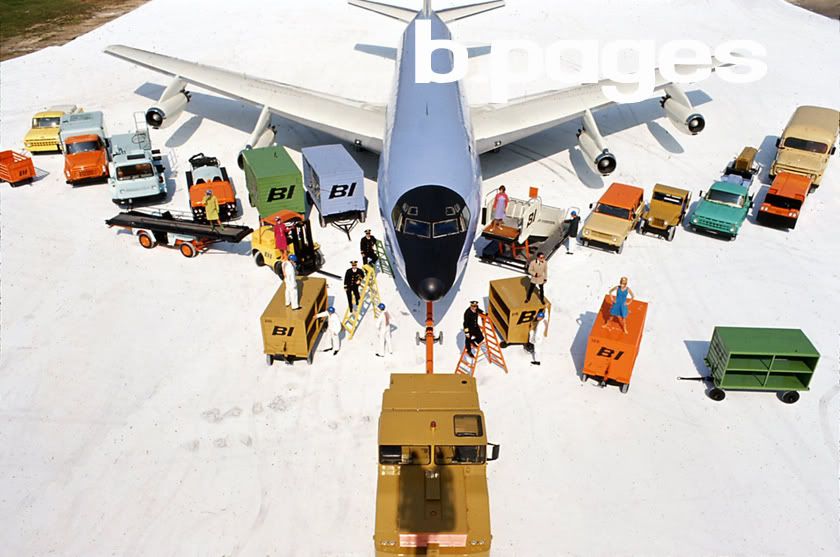 And The FINAL RETOUCHED Version:



Again, in the ORIGINAL LAVENDER:



The Nose of the Lavender 720:



First Publicity photos of Girard's re-design. Note: 720 is in the original "Lavender" color which was re-touched for trhe final photos in blue due to the fact that purple, white and black was taboo in Mexico. The middle photo showes the "re-touched" photo showing the plane in "medium blue."

Pictures Via Pat Zahrt and Eve Henger which donated them to the UTD H.A.C. in 1982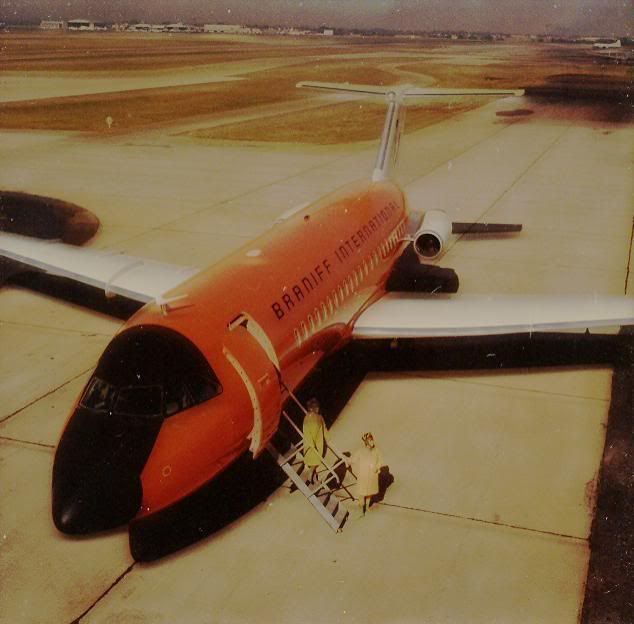 Braniff International BAC-111
With two Pucci clad hostesses at Dallas Love Field
Picture taken for "The End of the Plain Plane" introduced in 1965.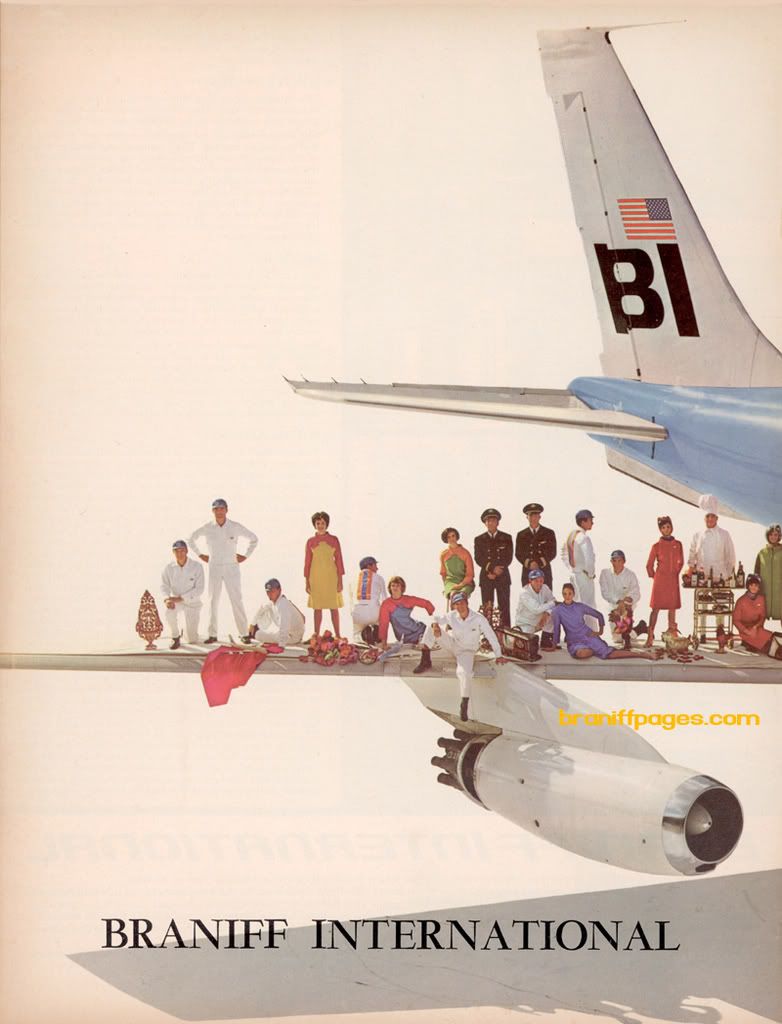 Famous picture of Braniff employees on the wing of a Boeing 720.

This image was used in the "End of the Plain Plane" ads, and featured the new Pucci uniforms, Girard designs and artwork from South America.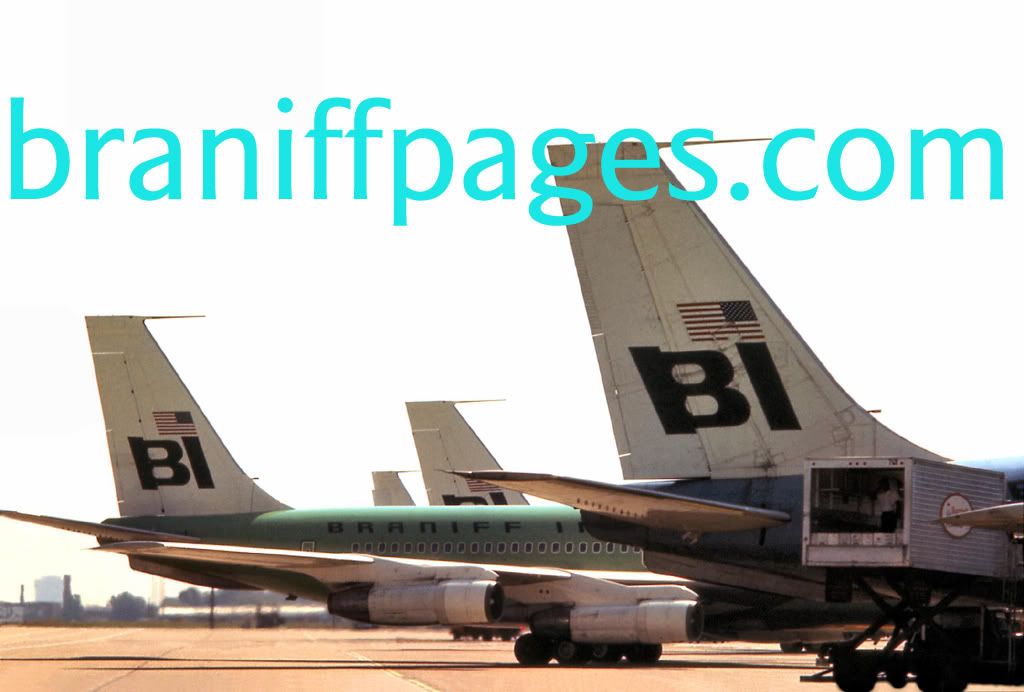 Braniff Introduced Seven Colors: Powder Blue, Medium Blue,
Orange, Ochre, Turquoise, Lemon Yellow and beige. (Lavender was also introduced as shown above, but dropped)
The colors were proposed by herman miller designer, Alexander Girard, and modified by Braniff In-house departments.




Aer Lingus 707 briefly leased by Braniff. This picture was taken right before it was returned to Ireland.

Close this window to return to The Braniff Pages