"The underlying sense of form in my work has been the system of the Universe, or part thereof. For that is a rather large model to work from," - Alexander "Sandy" Calder

THE LOST CALDER FILES



Closeup of unfinished tail on "swirl" model above
Two of Sandy Calder's unfinished 727-200's above



Three of four of Calder's "Tribute to Mexico" prototype 727-200's (two unfinished)
CLICK ON PHOTOS ABOVE TO VIEW LARGER PICTURE
Photos Copyright © Joe Mitchell and "The Braniff Pages", all rights reserved.

Calder's "Tribute To Mexico Models." Braniff hired Calder to paint a third plane in honour of Mexico. Four Models were painted, but before two of the models could be finished, Alexander Calder died in 1976.

According to Joe Mitchell, Calder was finishing the models at his New York Studios with Braniff Art Director John McCaughn, when he put off the last painting. He went to a breakfast the morning of his death, came back and didn't feel well. He died that night.

The models were shipped to Dallas by McCaughn, and Braniff decided to apply the scheme anyway. A large dedication was held in the Fall of 1977 in Acapulco, Mexico with Calder's Widow, Louisa. But, for an unknown reason to us, the scheme was never applied.


What the "Tribute to Mexico" would have looked like in service
Calder working on the prototype in New York


Alexander "Sandy" Calder painting The "Tribute To Mexico" model in his New York Studio
All "Tribute to Mexico Calder Pictures" The Braniff Pages Collection
Like other Braniff models, Calder used many colors on his "Tribute To Mexico." In addition to his signature colors of red, blue, yellow and black, Calder used Green (a color he seldom used). This was because the Mexican Flag contains Green. He also painted a "Red, White and Blue" motif on the belly of the aircraft to symbolize his belief in the importance of a close friendship between the peoples of Mexico and the United States.

"When Millions see it," Calder said, " perhaps they will feel the same joy and happiness about Mexico as I do." ...Sadly, his vision was never applied to a full-scale aircraft.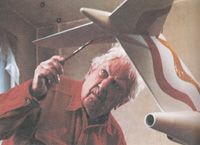 Calder painting the tail of a
"Tribute to Mexico" model.
THE CALDER MODEL STORY...
Alexander Calder (pictured left) had been introduced to Braniff in 1972. Braniff management loved Calder's abstract paintings and bought 50 of them for Braniff offices when they signed the airplane contact. An idea was thrown around in the late 70s or early 80s to apply a different Calder Art Work on each tail of Braniff's fleet. The exact same thing is being implemented by British Airways and their "World Art" tail schemes in 1997 (BA decided it was not a great idea, so they are phasing them out for "Better Tail Identity" and are now using the Union Jack on all its aircraft.) But, conservatism (or perhaps cost...like BA showed) never brought the idea to fruition.

Calder was born in Philadelphia, Penn in 1898, but didn't make the "art scene" until 1926 when he exhibited his work in New York. Calder moved to Paris, France where his animated toys and wire sculpture won him his first acollades. The "Bauhaus" movement and Frank Lloyd Wright were very popular in the 1930s which influenced Calder to dabble in "the abstract school" of art. He is best known for the creation of the modern wire "mobile" (a series of abstract or definite forms suspended by wire on different levels and hung from a ceiling.) American Airlines took notice of Calder, and bought a large mobile (red, blue and black circles on girders and rotating motor) for its Dallas Love Field Terminal. American moved the mobile to D/FW in 1974 but it soon disappeared. Calder's art work is in most major cities all over the world. Some are in museums and some are owned by private companies. Fort Worth had a Calder "Stabile" (a large metal stationary statue) designed for the Fort Worth National Bank in 1972. It stood proudly in front of the building until 1999 when the Bank One execs decided to sell the Fort Worth "Eagle." It stirred anger in Fort Worth until 2000 when a major Tornado all but destroyed the skyskraper. It is certain the Calder "Eagle" would have been badly damaged. It is now in a private collection in Seattle. Fort Worth's Amon Carter Museum has a good collection of Calder Art including two small stabiles. One stabile, entitled prophetically, "Broken Propeller" was installed in the Now Infamous New York World Trade Center Plaza in 1976. It survived the September 11th attack and is being refurbished for future installation. Probably at the memorial to the WTC Towers. Other "Stabiles" can be viewed in L.A., Chicago, New York, Paris and other major cities. And, Calder "Mobiles" can be found at New York's Whitney Museum, and in museums and companies all over the world.


CALDER AND BRANIFF

In 1972 an advertising executive, George Gordon, had a brainstorm. It was to salute Alexander Calder and his mobiles by asking him to paint a full size jet aircraft. With his idea and an unpainted 18" plastic model under his arm, Gordon flew to Sache, France for lunch with Calder at his home. Unaware of the subject and after spending a full day together, Calder asked, "what do you want me to do?" Gordon replied, "I want you to paint a plane." Observing the little white model, Calder dismissed the idea with, "I don't paint toys!" "No, no," Gordon replied, "I want you to paint a full sized jet." Calder smiled, "It would be a flying mobile. I like that." (Source: Calder Airplane Project) George Gordon had introduced Calder to Harding Lawrence. Thus began a relationship between Calder and Braniff from 1972 till Calder's death in 1976. (Calder was working on a third aircraft design, "A Tribute to Mexico," and died before he finished the prototypes.)
Calder was paid $100,000 US for each aircraft, and $50,000 for the 50 paintings. He painted the models in his Paris, France studio and shipped them to Texas. Then, between the 4-6 prototypes, Braniff picked one they wanted. Alexander Calder, like any artist, was very picky about his work. He insisted on supervising the application of the paint schemes on the aircraft. When the plane was finished, he would personally paint one or more engine nacelles.


Original Agreement between Braniff and Calder
CALDER'S CONTRACT
NOW in .pdf format!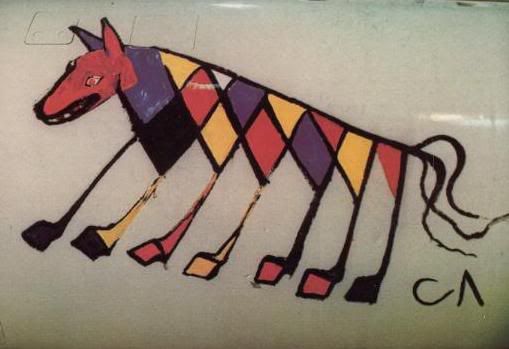 On the DC-8, he painted a fish in front of an admiring audience at The 1975 Paris Air Show. He had painted two other designs (including "Beastie" the eight legged cow pictured above on the No.1 engine) on the engine nacelles at Dallas Love Field. The engine nacelle for the 727 "Flying Colors of the United States" was painted by Calder at the Love Field base also. Calder was known for his love of wine, and would often have a bottle with him in the hangar. As one BI maintenance person said," When we were painting "Flying Colors," Calder would come over make a few suggestions and then go over and pass out."





Five of the 35 Calder paintings stolen from Braniff in 1985.
(Click on thumbnail for larger picture)

Calder's work, as you can see, is prized and sometimes swiped by admiring fans. In 1985, 35 of Braniff's original art works were stolen from the Lemmon Avenue Base. It seems someone climed over a wall on the third floor and entered through a false ceiling...took the art works out of their frames, rolled them up and made off with them. Only one was ever recovered to this day...but we now have pictures of each stolen piece, and if they ever show up on the art market, they will go back to Braniff or an appropriate museum.

In the 1980s, a full-size Calder ORIGINAL DC-8 model went missing. This work of art also has not been found or recovered.




Calder's signature for "Flying Colors," and the DC-8 itself in a South American ad.



Another South American Ad featuring Calder's DC-8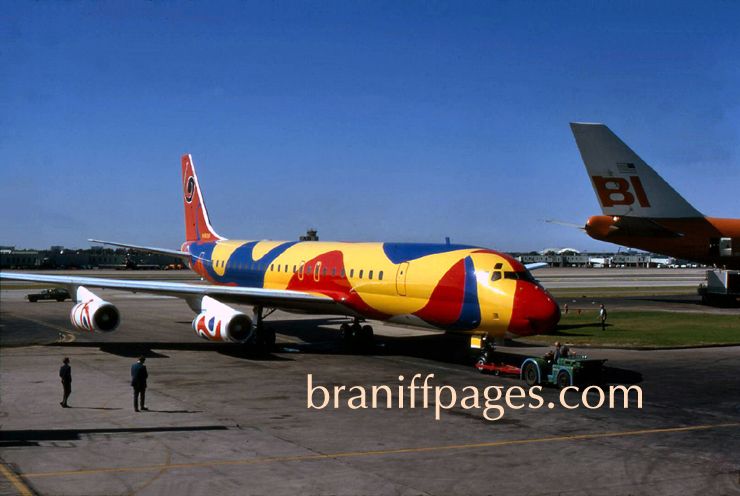 "Flying Colors" at Dallas Love Field with N601BN "Braniff Place" on the right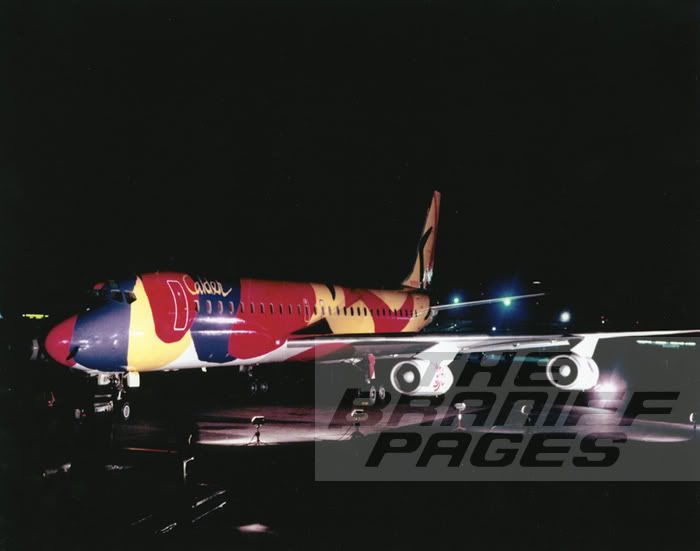 "Flying Colors" at Night




The right side of "Flying Colors"


As for the airplane models for "Flying Colors"...Calder painted six DC-8-62 models of which one was selected for Tail Number N1805 in 1973. The one selected for "The Flying Colors" plane was called "Humor" because of it's whimsical design. The other five models were named: "Snout," (because of a "dog's snout" painted on the nose. This model was first selected and many photos taken before Braniff changed to "Humor.") "Monocle," "Snake," "Star Tail" and "Arrows." These models went on display briefly at Frank Lloyd Wright's Guggenheim Museum of Modern Art in New York. And, of course, the six planes were hung from the ceiling as a mobile.


A RARE number of Demitasse cups and saucers were made for N1805, Calder's DC-8. The cup depicted two Calder designs he painted on the plane himself at Braniff's Maintanence Base in Dallas. The side on the left is "Beastie." And the design on the right, in the shape of a Dove (in keeping with Girard's Dove logo) with two rings, is called "Friendship" (which on the full-scale painting is just above the "top of a bikini.")



One of Calder's DC-8 models (not used on a real aircraft).
This one is called appropriately, "ARROWS"
Photos © "The Braniff Pages" and Joe Mitchell. All rights reserved.
Jay Pritzker "allegedly" "took home" five of the six Calder DC-8-62 models during his reign in the 80's. Correction: Jay Pritzker, was loaned the models. Braniff invoiced him for them, and he did pay Braniff for each model. Calder's models were apprasied between $60,000 and $75,000 each in 1985 (although they only sold for $15,000 each). The original "Flying Colors" DC-8-62 model is owned by The University of Texas, Dallas. It was donated to their aviation collection in the 1970s. It is currently at "The Frontiers of Flight" museum, but I don't think it is on display. Pritzker also "bought" one of the "Tribute to Mexico" 727s...the other three were auctioned at Christie's Auction House, London, England. Each 727 brought in between $20,000 and $35,000 each.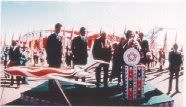 What about the "Flying Colors of the United States?" Perhaps the only model to survive for public view, the model painted by Calder in 1975 of a 727-200 for our 200th anniv. can actually be viewed at the "Frontiers of Flight" museum in the Dallas Love Field Terminal. Their is some dispute however if that model is the original. According to Braniff, the original 727 that was used as a direct model for the paint job went to Grand Rapids, Michigan at the request of Former First Lady, Betty Ford. The city still owns the model. Did Calder paint other prototypes for the US Bicentennial? Why yes...three other 727 models were painted in red and blue (with a white background of course). Named: "Tick-Tack," "Bulls-Eye," (dubbed that for red and blue circles painted in a target scheme) and one named "British Flag" so named for the red and blue stripes that probably formed a "Union Jack" somewhere on the aircraft. The location of these three models is unknown.




The Original Calder 727 model was unveiled in Dallas, New York, Chicago and Washington D.C. with the other three prototypes (six models were originally painted). This was probably taken at a Braniff press event in 1975.

Original uncopyrighted Braniff Files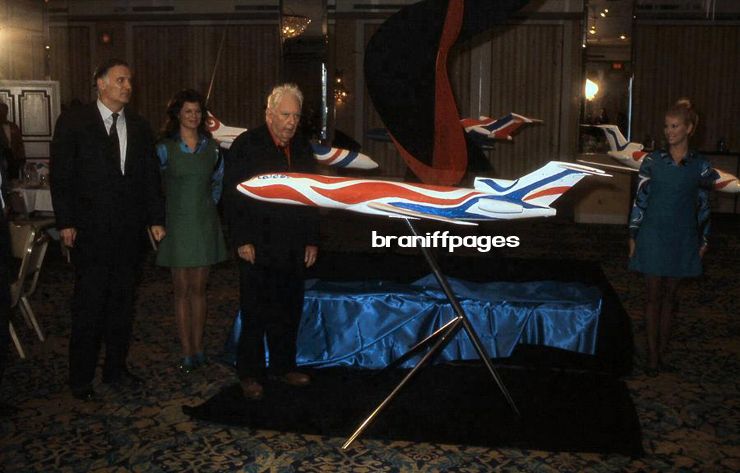 Alexander Calder at the same event as above posing with the chosen design for "The Flying Colors of The United States." Then Braniff President, Russell Thayer, brought in after Ed Acker left earlier that year for Air Florida, is standing to the left of Calder. Chairman Lawrence is oddly missing from the photo. Braniff Hostesses are wearing Pucci V/VI.

UTD H.A.C. from Original uncopyrighted Braniff Files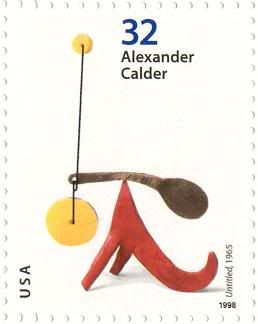 1998 US Postage Stamp honouring Calder and Alexander Calder painting
"The Flying Colors of the United States" in Sache, France

Did Calder paint any other moving object? Yes, Calder was hired by Bavarian Motor Works (BMW) in the 1970's to paint a "3 Series" motor car. It was briefly shown at "The Louvre" in Paris. The car can be seen at BMW's museum in Stuttgart, Germany.


Calder's BMW. Now in the Bavarian Motor Works Museum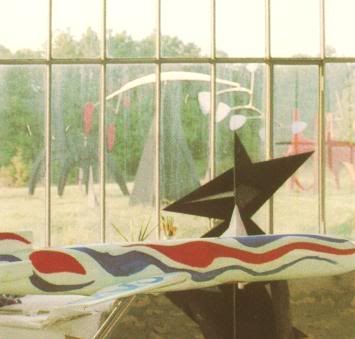 Alexander Calder 1898-1976 (left) and his French studio (right).
(Calder photo courtesy of the US Postal Service)
For the Complete History of N408BN, The Calder 727,
Click Here for it's beginning with Frontier Airlines to it's retirement in the 90s.

Alexander Calder's "Flying Colors of The United States" at Dallas Love Field in 1976
(Photo courtesy of 1976 "B-Liner")
"We can't compress Sandy into a few words. Too much of him....too large...and his qualities are too varied & contradictory. Engineer-Artist, Capricious yet totally logical. A serious Santa Claus. Mobile as a dream...Stabile as the very earth, & sometimes both. A lover of fun, full of wit & play, but confronted by things evil he is a grim battler as one could ask for. He is that rare combination of delight & Powers with which he has blessed us all." - Robert Osborn
Other Calder models???
Two other Calder designs never applied to any aircraft (courtesy of Sotheby's)
The one on the left was allegedly an early Mexico design
The one on the right was allegedly a bicentennial prototype
We didn't think these are original, because there are no Braniff records of them, so we asked Sotheby's

Until proven differently, we still think these are FAKES (because of Braniff testimony and records)
The Sotheby's response

Dear Mr. Watts,

Thank you very much for your concern about the Calder airplane models in our
online sale. These two works have been reviewed by the Calder Foundation and
are indeed authentic works by the artist. They were well known by Sandy
Rower, Alexander Calder's grandson. I believe that the designs were just
designs and never actually used for the airplanes. These works are
registered in the archives of the Calder Foundation, New York, under
application numbers A18903 and A18906. Please rest assured that Sotheby's
and sothebys.com would never enter a work by Calder into a sale without
first reviewing its authenticity with the Calder Foundation.
Sincerely,
Heather Galler Brandes
Online Fine Arts, Sotheby's Auction House New York